External Events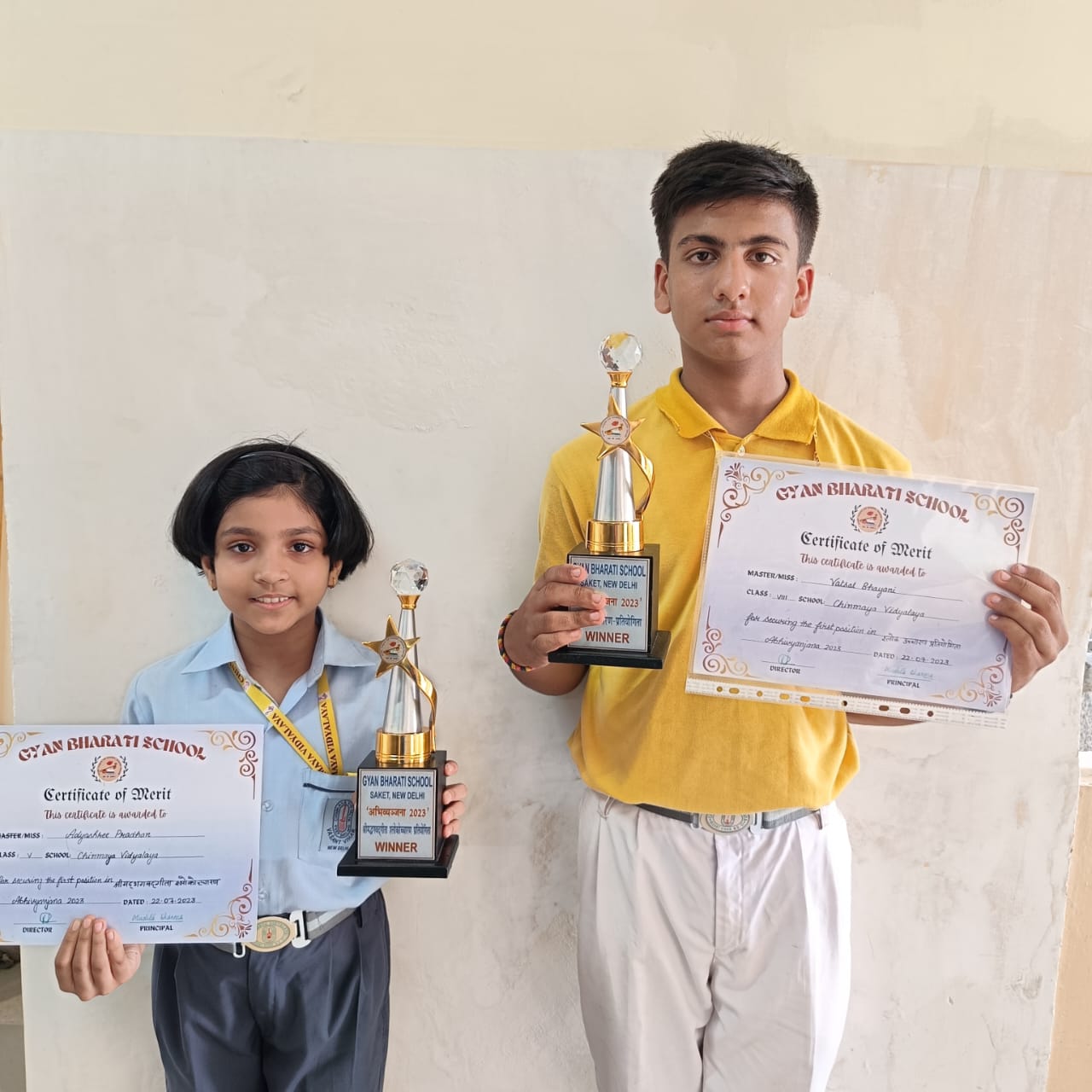 Date: Saturday, 2 July, 2023
Vatsal Bhayani of class-VIII and Adyashree Pradhan of class-V participated in the Shreemad Bhagwatgeeta Shloka Uchcharan Abhivyanjana-2023 organized by GYAN BHARTI SCHOOL, SAKET, NEW DELHI and got First Position.​
Date: 9 July, 2023
Satvik Malviya, Zayn Khan and Hardik Kumar of class XI participated in the Gaming competition BLACKOU1 organized by RAMJAS INTERNATIONAL SCHOOL, RK PURAM, NEW DELHI and got Second Position.​
Bhavya Gulati and Manuj Arora of Class IX secured the 2nd position in the Socio-Tech Masters category in the event "Confluence" organized by Air Force Golden Jubilee Institute, Subroto Park. ​
Date: 22 July, 2023
Lasya Priya Yellasiri of Class VI, Shreyas Loshali of Class VII, and Aditya Kumar of Class VIII secured the 1st position in the Mathemagix category in the event 'Abhivyajana' organized by Gyan Bharati School, Saket.
Date: 4 May, 2023
Mudit Ranjan, Ishant Ratan AND Aditya Rai of Class XII secured 1st postion in the Meme String Category in the event 'ORDIN@TRIX23.0' organized by Tagore International School, Vasant Vihar.
Date: 4 May, 2023
Shivansh of Class X AND Tanay Raj of Class IX Secured 1st position in the Meme String Category in the event "KRITI" organized by DAV Public School, Ashok Vihar.
The Mukhyamantri Vigyan Pratibha Pariksha for the students of class 9 th is meant to identify and nurture the talented students. The examination is conducted every year at state level. For the session 2022-23 two students ABHIJEET KUMAR (RANK-24, MARKS - 79%) and YASHAANSH DUBEY (RANK - 43, MARKS - 69.5%) of Chinmaya Vidyalaya made their place in merit list and are eligible for scholarship.